In Gulf oil spill, how helpful – or damaging – are dispersants?
The one BP is using to break up the Gulf oil spill has been approved by the EPA. But it's an older mixture that contains toxic ingredients, and it's not among the top tier of recommended dispersants.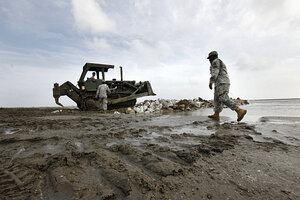 Gerald Herbert
Two dispersants BP has been using to break up the oil spewing from an undersea wellhead in the Gulf of Mexico carry the federal stamp of approval. But they are not rated as effective or as safe for marine life as at least 12 other government-approved dispersants on the market.
Environmental groups are asking why this is the case, and they suggest BP may reduce damage to coastal habitats by breaking up the oil before it hits shore – but at the expense of the marine ecosystem further out in the Gulf.
In the four weeks since the Deepwater Horizon rig capsized after an explosion, BP has released 436,000 gallons of the two dispersants, Corexit EC9500A and Corexit EC9527A, the company says. Dispersants break up the escaped oil into molecular bits before it reaches shore.
IN PICTURES: Louisiana oil spill
The Environmental Protection Agency (EPA) has pre-approved both for such emergencies. The effectiveness of Corexit EC9500A is rated as 55 percent, and the effectiveness of Corexit EC9527A is rated as 63 percent, according to the EPA. That ranks them behind 12 other dispersants (out of 18) that the agency has determined do a better job dispersing oil while protecting marine life.
---