What's so bad about the Google Street View data flap?
The revelation that Google Street View cars accidentally recorded personal data from 'open' WiFi networks has Germany and privacy advocates upset.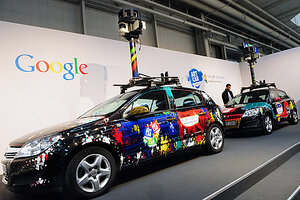 Daniel Mihailescu/AFP/Newscom
Privacy conspiracy theorists hit the mother lode Friday with Google's blog post detailing its inadvertent collecting of snippets of personal data from Google Street View cars in Europe. But why all the fuss?
Google Street View, for the uninitiated, is the photo-based online mapping add-on Google rolled out in 2007. Images taken by specially outfitted cars are paired to GPS coordinates and, when viewed online, present an "as if you were there" view of the searched-for address.
The program has met with with equal parts embrace and hostility. Wayward travelers appreciate the ability to see what an unfamiliar place looks like before venturing out – or even on-the-spot, using a mobile device. Governments and advocates have raised concerns grounded in homeland security, privacy, and data retention policies. Google says it has striven to comply with individuals' and governments' requests to take down or blur photos with easily identifiable faces or sensitive information.
---