Arizona immigration law has echoes of controversial federal act
Elements of the Arizona immigration law echo 1995's controversial Section 287(g) of the Immigration and Nationality Act, which gave some local law enforcement officials the authority to identify and detain immigration offenders.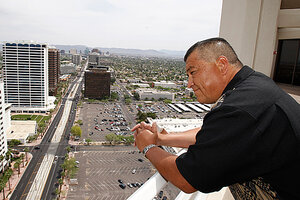 Ross D. Franklin/AP
As critics assail Arizona's new immigration law, saying it is wrong to put federal immigration duties in the hands of local law enforcement, observers note that the country has been down this road before.
In 1995, the Immigration and Nationality Act's Section 287(g) allowed US immigration officials to train local law enforcement officers and authorize them to identity and – if necessary – detain immigration offenders. The program spread across the south of the United States from Florida to San Bernadino, Calif., to Arizona itself.
In many ways, 287(g) has become a litmus for the issues now playing out in the Arizona immigration law debate: specifically, the desire to rein in illegal immigration versus concerns about the potential for abuse and racial profiling. To proponents, 287(g) has been "enormously successful." To critics, "it has harmed, not served our public safety."
It is a microcosm of what has erupted from Arizona during the past month, and it points to the difficulty of finding a middle ground in what is an intensely polarizing topic.
---