EPA scolds BP in Gulf oil spill: dispersant is too toxic, change it
After saying last week that it had no authority to tell BP which disperant to use for the Gulf oil spill, the EPA on Thursday told BP to switch dispersants to one that is less toxic.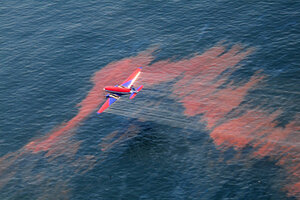 Stephen Lehmann/US Coast Guard/UPI/Newscom
The US Environmental Protection Agency reversed course in the Gulf oil spill cleanup effort Thursday, telling BP that had three days to stop using a chemical dispersant that the EPA's own data suggests is unnecessarily toxic.
As recently as last week, the EPA said it had no power to force BP to use a certain dispersant. All it could do, Administrator Lisa Jackson said, was provide a list of approved dispersants from which BP could choose.
But the EPA essentially overruled itself Thursday by forcing BP's hand. The company has 24 hours to "identify a less toxic alternative" and 72 hours to begin using it.
IN PICTURES: Louisiana oil spill
The move was prompted by the unprecedented size of the cleanup operation.
So far "dispersants have been used in much greater volume than ever" in US waters, said Jane Lubchenco, administrator for the National Oceanic and Atmospheric Administration (NOAA), Thursday. That is why agencies including her own "became increasingly concerned about the specific dispersant being used," she added.
Size of spill: BP had it wrong, apparently
The size of the spill was also called into question Thursday, when BP reported that its siphon was now collecting 5,000 barrels of oil a day. BP had previously reported that the well was leaking 5,000 barrels of oil a day, but video of the leak clearly showed significant amounts of oil still escaping into the Gulf of Mexico.
---