Floyd Landis vs. Lance Armstrong: Are doping allegations credible?
Doping allegations have dogged Lance Armstrong throughout his career, but the the seven-time Tour de France winner has deflected them all. The latest accusations are from a disgraced former teammate, Floyd Landis.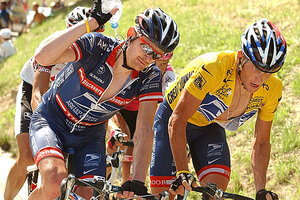 Bernard Papon/AP/File
Lance Armstrong is credited with bringing awareness to the global fight against cancer and ushering in a new era of professional cycling, performing at superhuman levels while deftly deflecting doping allegations like the late-race challenges of so many competitors.
But the revelations of fallen cycling star Floyd Landis – some of the most specific and close to Mr. Armstrong yet – threaten to catch modern cycling's biggest star in its most common snare.
Since turning professional in 1992 Armstrong has never tested positive for using performance enhancing drugs. But his unprecedented success – seven consecutive Tour de France wins – has made him the target of a constant barrage of doping allegations.
In the latest, Mr. Landis, a former teammate of Armstrong's, accuses him and longtime coach Johan Bruyneel of sophisticated cover-up schemes designed to keep them a step ahead of the International Cycling Union (UCI) and antidoping authorities.
Armstrong took time from a California stop on the cycling tour Thursday to dismiss the allegations, saying that Landis had changed his story many times and was not credible.
---