Feds demand that BP provide confidential Gulf oil spill data
The EPA and Homeland Security Department have ordered BP to produce all the data it's collected on the Gulf oil spill since the Deepwater Horizon oil rig exploded last month. BP has yet to comply.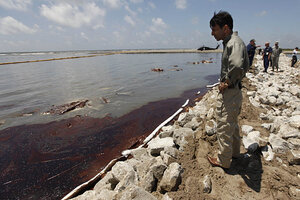 Gerald Herbert/AP
BP has yet to comply with federal requests to produce confidential internal data regarding the Gulf of Mexico oil spill. Nor is it providing direct answers to an order that it use another, less toxic dispersant to mitigate the oil.
Homeland Security Secretary Janet Napolitano and Environmental Protection Agency (EPA) Administrator Lisa Jackson wrote to BP Group Chief Executive Tony Haywood Thursday demanding that the company produce all data it has collected and plans to collect following the April 20 explosion that capsized the Deepwater Horizon, an oil rig BP leased and operated that subsequently wrecked an undersea wellhead that continues to spew oil into the Gulf.
The letter demands that the company hand over all documents including "any and all sampling and/or monitoring plans, records, video, reports collected by BP, its contractors, subcontractors, agents or employees" as well as any "reports of internal investigations." Ms. Napolitano and Ms. Jackson want all such data posted on a website, saying that the public is "entitled to nothing less than complete transparency."
---
Follow Stories Like This
Get the Monitor stories you care about delivered to your inbox.