The BP 'top kill' live feed: The armchair explorer's guide
BP's attempt to cork the Deepwater Horizon well is being streamed live on the Web. But what's really going on in the BP 'top kill' live feed?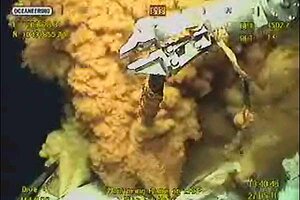 Reuters
A robot sub holding a wrench with a metal fist. A dark plume bursting forth from a pipe. A liquid, soundless undersea universe, as mesmerizing as it is terrifying.
To be sure, the BP live video feed of the "top kill" maneuver has forged a peculiar connection for many viewers to the undersea disaster. Reacting to drama on Sunday, before the "top kill" attempt began, the blogger Monkeyfister noted: "While watching, ANOTHER major 'explosion' occurred. ROV Cam now covered in oil. Our Favorite Disaster Bot is taking a beating."
Clearly, figuring out exactly what is going on in the BP live video feed of the "top kill" attempt requires a bit of background – and imagination.
First of all, what is a "top kill"? It consists of pumping heavy mud at over 6,000 pounds per square inch of pressure into the well head, to stem the oil geyser that has fouled the Gulf of Mexico with as much as 19,000 barrels of oil per day since the Deepwater Horizon rig blew up on April 20 and sank two days later.If successful, it will be chased by a load of concrete to cap the well.
In the feed, subs with nicknames like Explorer 1 and Explorer 2 are occasionally seen working on a large metal structure. That is the infamous blowout preventer (BOP) that attached the rig to the wellhead, and which failed to stem the kick of gas that escaped on April 20, causing the explosion and subsequent leak.
---