Arizona immigration law: two rallies, two very different views
Supporters and critics of the Arizona immigration law held rallies in the Phoenix area Saturday. The anti-law rally appeared larger, but the pro-law forces have more national support, polls say.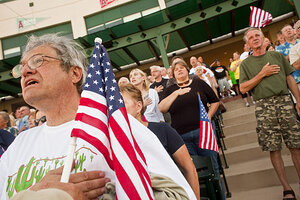 Newscom
Thousands of people, including some from other states, converged in the Phoenix area Saturday to show support or disdain for Arizona's controversial immigration law.
Though crowd numbers were not available, the daylong march through Phoenix against the law, SB 1070, appeared larger than the evening rally at a baseball stadium in support of the law.
The law, which requires local and state authorities to determine whether suspects are in the country illegally, has drawn widespread criticism from human-rights groups, some law-enforcement officials, and President Obama, who says it could lead to discrimination.
Several cities, including Los Angeles and San Francisco, have boycotted Arizona.
Yet polls suggest that vast majority of Arizonans – and even a majority of Americans – back the law. In this respect, the evening rally, organized by "tea party" groups, gave voice to opinions not often heard outside Arizona, yet – if the polls are correct – shared by most Americans.
---