BP oil spill: Five outside-the-box solutions to capping and cleanup
BP is sorting though 8,000 suggestions from people around the world on how to cap the well and clean up the oil. Here are five suggested solutions to remedy the crisis caused by the BP oil spill.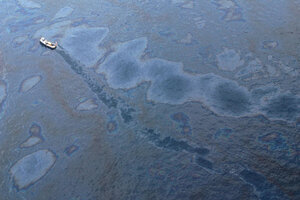 Jae C. Hong/AP
With BP still struggling to cap the runaway Macondo oil deposit deep in the Gulf of Mexico, possible solutions – some of them quite explosive – are coming in from far and wide.
Here are five players and their bright ideas.
1. "Nuke the well." Former nuclear submariner Christopher Brownfield, now at Columbia University in New York, writes recently in the Daily Beast that the US government should use nuclear or conventional explosives to "destroy the well and put the matter to rest." The Russians have four times used nukes to kill runaway wells, CNN has reported.
That option has not publicly been considered by the team of BP and government scientists leading the effort to cap a well that started spewing soon after the Deepwater Horizon rig exploded on April 20, killing 11, and then sank two days later. But a process that involves drilling a bedrock hole next to the pipe, lowering an explosive, and then detonating it to crush the pipe walls is likely being considered by the White House. On Wednesday, Sen. Bill Nelson (D) of Florida urged President Obama to engage the Department of Defense in the oil spill fight.
---