BP oil spill spreads toward Pensacola, as wildlife toll rises
The BP oil spill is moving eastward, threatening beaches like Pensacola, Fla., as oil balls wash ashore and Gulf animals die at unusually high rates.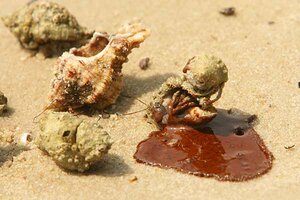 John David Mercer/Press-register/AP
The focus of the BP oil spill relief effort is shifting eastward – toward the beaches of Alabama and Pensacola, Fla. – as the slick's toll on Gulf wildlife slowly mounts.
Tar balls bobbed toward Pensacola, threatening to make Florida the fourth Gulf state directly affected by the undersea geyser from BP's Deepwater Horizon well off the Louisiana coast.
As a result, federal and state governments are moving booms and skimmers eastward.
IN PICTURES: The Gulf oil spill's impact on nature
"There's a lot of tactical movement of boom right now as the threat is shifting to Mississippi and Alabama," says Coast Guard Adm. Thad Allen.
Meanwhile, the National Wildlife Federation reported Wednesday that six to nine times more sea turtles are turning up dead than usual. Similarly, the 29 stranded dolphins found since the spill began represent two to six times the normal amount. So far, 444 birds and 222 sea turtles have been found dead in the area, according to a recent tally provided by the US Fish and Wildlife Service.
---