Obama's Gulf oil spill ultimatum: Clock is ticking, what can BP do?
The Obama administration has told BP that it has until Sunday night to come up with better plans to contain the leak in the Gulf oil spill. But BP has ignored at least one ultimatum already.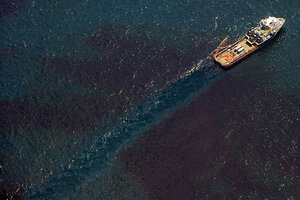 Saul Loeb/AFP/Newscom
According to the Obama administration playbook, this is what keeping its boot on the neck of BP in the Gulf oil spill looks like.
By the end of today, the administration has warned BP, the company must have a new and better plan for collecting more of the oil leaking from the well and into the Gulf of Mexico. The ultimatum was sent to BP in a letter Friday.
Currently, BP is collecting 650,000 gallons of oil a day with its containment cap on the well. But BP's live cam suggests huge volumes of oil are still leaking out, and BP's plan to capture more of the oil won't be in place for a month, the company says.
IN PICTURES: The Gulf oil spill's impact on nature
That is not good enough for the Coast Guard or President Obama. Yet it is unclear what, exactly, the federal government can do to BP if it does not comply.
Already, the administration has issued one public ultimatum to BP: Last month it gave BP three days to switch to a less toxic and more effective chemical dispersant. BP essentially ignored the request, though at least one chemical dispersant company said it had ample stocks to supply BP.
---