New BP oil spill flow estimates: 20,000 to 40,000 barrels per day
The latest revisions from four teams of scientists find that up to 1.76 million barrels from the BP oil spill had escaped into the Gulf of Mexico by June 3.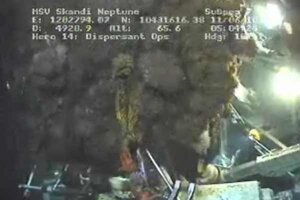 BP/AP
For nearly a month and a half, BP's Deepwater Horizon oil blow-out is likely to have pumped between 20,000 and 40,000 barrels of oil a day into the Gulf of Mexico, according to new estimates of the flow.
That eclipses initial estimates BP and the government used of 5,000 barrels a day -- estimates that scientists outside the government and the international oil giant quickly questioned.
The updated numbers give people coordinating clean-up efforts – as well as government investigators looking at potential civil and criminal charges against BP – a better idea of the full magnitude of the blow-out.
IN PICTURES: Sticky mess: The Gulf oil spill's impact on nature
On May 27, scientists working with the national incident command's flow-rate technical group released a preliminary estimate of 12,000 to 19,000 barrels a day. But they emphasized that this represented the minimum amount of oil leaking into the Gulf.
The latest revision suggests that until June 3, when BP began its effort to install a containment cap on the leaking well to capture as much of the oil as possible and deliver it to surface ships, the blow-out pumped as much as 1.76 million barrels of oil into the Gulf.
That's nearly two-thirds the amount of oil entering the Gulf as the region's worst platform spill, the Ixtoc blow-out in the Gulf of Campeche in 1979. That event sent some 3 million barrels of oil into the Gulf.
---