America's 'small people' and BP's gaffe-prone Gulf oil spill response
The Gulf oil spill has exposed both linguistic and cultural chasms between America and Europe. BP's Swedish chairman Carl-Henric Svanberg apologized for calling Gulf residents 'small people.'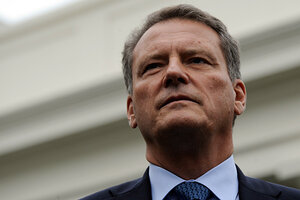 Susan Walsh/AP
After the very British Tony Hayward felt American ire for his multiple gaffes ("I want my life back") in the wake of the Gulf oil spill, Swedish BP Board Chairman Carl-Henric Svanberg may have done Mr. Hayward one better Wednesday when he pleaded that he, like President Obama, cares about "the small people."
Swedes winced as hard as many Americans at the gaffe, for which Mr. Svanberg later apologized, saying he "spoke clumsily." In an instant, Svanberg's apology – backed up by the announcement of a $20 billion escrow account for Gulf oil spill claims – was snatched away by the court of American public opinion.
On the Gulf, the gaffe took on even greater meaning, illuminating a class clash between international corporate elites and the Gulf's working class, which is bearing the brunt of the Deepwater Horizon disaster. Ironically, that was precisely the notion Svanberg was addressing, trying to explain in faulty English that BP is not a greedy company that doesn't care about people who live near its wells and refineries.
IN PICTURES: Companies that have paid big for environmental disasters
---