Has BP oil spill damaged the US-UK 'special relationship'?
Some British officials complain about harsh criticism of the company formerly known as 'British Petroleum.' Obama and Prime Minister David Cameron will try to smooth US-UK ties when they discuss the BP oil spill – among other topics – this weekend.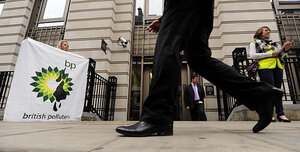 Newscom
In simpler times, President Obama and new British Prime Minister David Cameron might have been placing a friendly bet over Saturday's US-England World Cup match when the two leaders talk by phone this weekend.
But before they can talk sports, the two top representatives of the US-UK "special relationship" have to address more pressing issues like Afghanistan. And then there's the mounting fallout from BP's handling of the BP oil spill and environmental disaster.
With the British press and even some officials increasingly seeing attacks on Britain itself in the president's and his administration's criticisms of BP, Mr. Cameron has sought to calm the waters. During a visit to Afghanistan Thursday, he said the oil spill would no doubt be part of what his office says is a "routine" phone conversation, but he ducked pointed questions about an anti-British side to criticisms of BP.
IN PICTURES: The Gulf oil spill's impact on nature
"I completely understand the US government's frustration because it's an environmental catastrophe," he said. "The most important thing is to mitigate the effects of the leak and get to the root of the problem."
---