Gen. David Petraeus takes over in Afghanistan: Will it make a difference?
Gen. David Petraeus, who replaced ousted Gen. Stanley McChrystal, is a widely respected officer who wrote the Army's counterinsurgency manual and helped craft US policy in Afghanistan.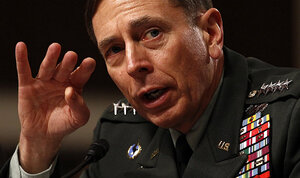 Kevin Lamarque/Reuters
Gen. Stanley McChrystal, the top US military commander in Afghanistan until today, has been dismissed from his post by President Obama. Will that affect the operations of American troops on the ground?
It doesn't look as if it will, at least for now.
In announcing the McChrystal firing, Obama emphasized that he remains committed to the current strategy, which calls for a bump-up in US personnel in Afghanistan this year. And Central Command chief Gen. David Petraeus – the man Obama picked to replace McChrystal – literally wrote the manual on counterinsurgency techniques which US commanders in Afghanistan have been following.
IN PICTURES: Controversial American generals
Petraeus was a surprise choice, in the sense that as head of a combatant command he was McChrystal's boss, and thus the Afghanistan job represents something of a demotion.
But as the general widely credited for turning around the dire situation in Iraq, he is respected by lawmakers of both parties. His presence in Kabul may allow the Obama team in Washington to put the McChrystal incident behind it more quickly than it would have otherwise.
---