Weak 'Knight and Day' opening: The fall of Hollywood stars?
As Tom Cruise and Cameron Diaz found out with the $3.8 million opening of 'Knight and Day,' audiences aren't so much looking for big-name Hollywood stars anymore.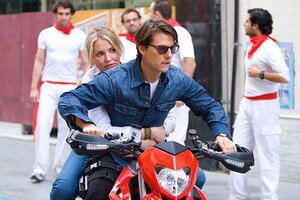 Frank Masi/20th Century Fox/AP
If the $3.8 million Wednesday box office for the Tom Cruise/Cameron Diaz action flick "Knight and Day" is any sign, this may just turn into the summer that saw movie stars officially fall from grace.
With production costs topping $125 million, it's hard to see that tally as anything but tepid. Just compare that to say, the Wednesday opening numbers for other popcorn powerhouses such as "Transformers: Revenge of the Fallen" – 62 million, or "Spider-Man 2," which took in $40.4 million on its Wednesday opening. Even Mr. Cruise's own "War of the Worlds" made $21.3 million, while "Mission Impossible 2" pulled in $12.5 million, both on mid-week debuts.
While Hollywood.com box office president Paul Dergarabedian politely dubs the film's performance "acceptable," he notes that the few box office bright spots so far this summer are anything but star-driven: "Karate Kid" made nearly $56 million its first weekend and features the unknown Jaden Smith, while the Pixar family film "Toy Story 3" stars animated kid's playthings.
---