Watch 'Eclipse' online for free? Major antipiracy effort launched.
Online piracy took a hit from intellectual property rights authorities Wednesday, with the seizure of nine websites. Some offered illegal copies of the new Twilight movie, using the pitch 'watch 'Eclipse' online for free.'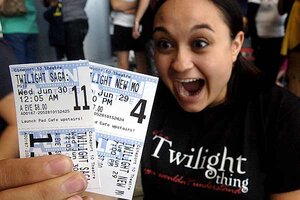 Norm Dettlaff/AP
"The Twilight Saga: Eclipse" is having an incredible opening.
The film grossed in excess of $30 million from its midnight shows Wednesday – and now holds the new industry record as largest midnight gross ever. This morning came the other side of that coin: "Watch eclipse online for free" ranked as a top-10 online search term.
That battle – box-office dollars versus illicit online downloads – was the subject of a major announcement Wednesday at Walt Disney Studios in Burbank, Calif., near the heart of the industry most hurt by Internet piracy.
"Operation In Our Sites" will be a coordinated effort by US Immigration and Customs Enforcement (ICE) and the National Intellectual Property Rights Coordination Center (NIPRCC) to identify and shut down Web sites that engage in such activities.
In revealing the program, ICE Assistant Secretary John Morton announced the seizure of nine domain names of Web sites that were offering first-run movies, often within hours of their theatrical releases. They include: tvshack.net, movies-links.tv, filespump.com, Now-movies.com, planetmoviez.com, thepiratecity.org, zml.com, ninjavideo.net and ninjathis.net. Visitors to the sites will soon reach a page emblazoned with the logos of the FBI, ICE, and the NIPRCC explaining the seizure, according to officials.
---