In New Orleans, Gulf oil spill anger turns to Obama
Criticism of Obama for his handling of the Gulf oil spill, though still muted, sounds much like that of President Bush after Katrina.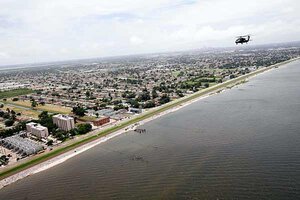 Gerald Herbert/AP
Here in the French Quarter's Jackson Square, unrest over BP's handling of the Deepwater Horizon blowout and the Gulf oil spill has turned to anger at the Obama administration.
"This is not just an economic crisis, it is a cultural crisis," organizer Lauren Goldfinch told a crowd of protesters Saturday, wearing a homemade BP T-shirt smeared with what appeared to be oil. "I'm not here to condemn the use of oil, but to demand accountability for this disaster. We need transparency and accountability now."
Still recovering from hurricane Katrina, economically intertwined with the oil industry, and on the front lines of the ongoing war with oil in the Gulf, New Orleanians understandably have complicated feelings about the newest disaster knocking on their door.
IN PICTURES: Louisiana oil spill
Although only a single sign in the crowd referred to the Obama administration – a man wearing an Uncle Sam costume held one that read "Mr. President, Take Control of BP Now" – New Orleanians are growing increasingly frustrated with the administration's handling of the crisis, oil spill activists say.
An electoral island of blue in a predominately red state, New Orleans was carried by Obama with 59 percent of the vote in 2008, while winning less than 40 percent statewide. But 11 weeks into the BP oil well disaster, criticism of Obama in the city, though still muted, sounds much like that of President George W. Bush after Katrina.
---