Offshore drilling moratorium: US cites blowout preventers' weak spot
The Obama administration on Monday cited control systems on subsea blowout preventers as one reason for its offshore drilling moratorium. But more than a year before the BP oil spill, authorities learned that balky control systems were the most common cause of blowout preventer failure.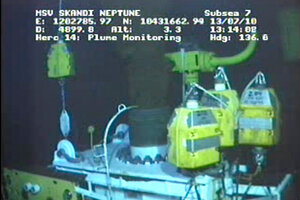 BP/Reuters
Before he leaped into a lifeboat in the middle of the night on April 20, Christopher Pleasant tried to trigger a deep-sea safety device to squelch the oil-well blowout and fire raging aboard the Deepwater Horizon drill rig.
In those last frantic minutes in the rig's central control room, Mr. Pleasant – a subsea superviser for Transocean, the rig's owner – pressed two buttons simultaneously to activate a 450-ton blowout preventer sitting 5,300 feet below the sea surface. If its massive "shear ram" valve closed, it would slice through the drill pipe and stop the torrent of burning gas.
For one fleeting moment, the control panel lights offered a ray of hope – showing the shear ram and other BOP valves apparently closing. Valve indicator lights flicked from green (open) to red (closed), he told federal investigators in May in New Orleans.
Yet something wasn't right. Another set of gauges just above the BOP control panel showed no hydraulic pressure at all – "no flow," he testified. Also, the fire was still burning. So, despite BOP control system lights showing the shear-ram closed, it was not.
"I knew it was time to leave," Pleasant testified.
No one knows yet just why the rig's BOP did not work – or why the device's hydraulic-electric control system gave Pleasant the wrong readings. That mystery won't be solved unless the BOP is pulled off the sea floor months from now. But when the Obama administration on Monday issued a revised offshore drilling moratorium in the Gulf, it cited fresh concerns about the reliability of BOP control systems as one reason for its action.
---