Why Obama is putting so much stock in battery technology
President Obama on Thursday made his fourth visit to a battery manufacturer since taking office. He's pouring money and political attention into an industry that's playing catch-up – but that is vital to the future health of the domestic auto industry.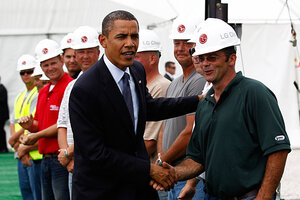 Kevin Lamarque/Reuters
What's with all the presidential visits to battery-manufacturing plants?
President Obama's trip Thursday to just such a plant in Holland, Mich., was his fourth automotive-battery-focused stop since being elected. To riff off of President Clinton's mantra "it's the economy, stupid," it's almost as if Mr. Obama's catch phrase about what's important could be, "It's the battery, bozo."
The reason is that batteries are central to the president's election-year message that green-tech will lead America into well-paid jobs and a revived economy. But politics aside, the $2.4 billion the Obama administration has funneled to the advanced battery industry points to a tooth-and-nail struggle as the United States endeavors to catch up to Asia in making cutting-edge lithium-ion batteries for use in vehicles.
---