Protests of Arizona immigration law promised as deadline looms
Protests and rallies are being planned in Phoenix and around the country on July 29, the day police are set to begin enforcing the controversial Arizona immigration law.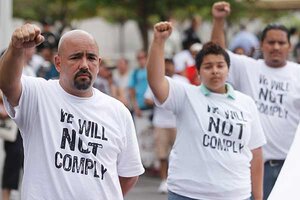 Joshua Lott/Reuters
The furor over tough new Arizona immigration law will take the form of rallies, vigils, marches, and protests beginning next Thursday, the day the law is scheduled to take effect.
The statute, which requires state and local law enforcement agencies to check the immigration status of people they stop for other reasons, and makes it a state crime to be in the country illegally, is the subject of seven lawsuits, the third of which, brought by the Justice Department, was heard Thursday. No injunction has yet been issued to stop the law.
"Events are happening all over the state because the eyes of the nation and the world are on Arizona," says Jennifer Allen, executive director of Border Action Network, one of the activist groups planning events to protest the law.
The protests will extend beyond Arizona, as well. The National Day Laborer Organizing Network (NDLON) has 56 partners signed up to protest – from Action Langley Park in College Park, Md., to Working Hands Legal Clinic in Chicago. Separate protests are also planned in South Bend, Ind., and elsewhere across the country. Economic boycotts of Arizona have been proposed since the law's passage, and have seen varying levels of success.
---