Stuxnet spyware targets industrial facilities, via USB memory stick
Beware the USB memory stick. Infected sticks are the means by which a mystery spyware, dubbed Stuxnet, is penetrating control systems of industrial facilities and utilities around the globe, say cybersecurity experts.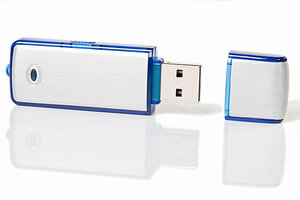 Newscom/File
Cyberspies have launched the first publicly known global attack aimed at infiltrating hard-to-penetrate computer control systems used to manage factory robots, refineries, and the electric power grid.
The ultrasophisticated attack was discovered last week, but information about it – including the full range of capabilities of the espionage software – continues to emerge. The spyware had spread for at least a month undetected and has already penetrated thousands of industrial computer systems in Iran, Indonesia, India, Ecuador, the United States, Pakistan, and Taiwan, according to a Microsoft analysis.
The attack is part of a sophisticated new wave of industrial cyberespionage that can infiltrate corporate systems undetected and capture the "crown jewels" of corporations – proprietary manufacturing techniques that are worth billions, experts say. It's significant, too, because of its potential to infiltrate and commandeer important infrastructure, such as the power grid.
No one knows who's behind it. Cybersecurity analysts aren't even sure yet what the spyware's creators intend it to do to those industrial systems. The intent could be to sell corporate proprietary secrets – or to seek an advantage over the US in some future assymetric conflict, such as a cyberwar.
---