Google cyber attack: the evidence against China
Hackers in China are attacking US companies like Google with 'professional quality, organization, and discipline' – raising the specter that the government is involved in the cyber attacks.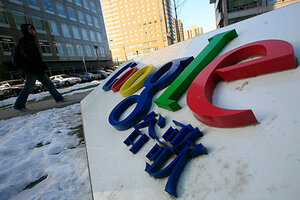 Jason Lee/Reuters
Google's announcement yesterday that cyber attacks emanating from China "resulted in the theft of intellectual property" from the search-engine giant adds to the drumbeat of allegations of Chinese cyberattacks on US targets.
Such attacks have occurred with increasing frequency in recent years, from the pilfering of e-mail systems belonging to the US Secretary of Defense to the theft of advanced weapons designs from defense contractors.
Google said its own investigation found that at least 20 other large companies from range of industries, including the Internet, finance, technology, media, and chemical sectors were similarly targeted in December. Software maker Adobe on Wednesday apparently became the first company to acknowledge that assertion, saying its corporate network, too, was attacked.
"We are still in the process of conducting our investigation into the incident," Wiebke Lips, an Adobe spokeswoman, told Computerworld. "It appears that this incident and the one Google announced earlier are related."
The sophistication of these attacks and others have led experts to suggest that the attacks have been coordinated or at least approved by the Chinese government. Some senior US officials have been particularly blunt.
---