Google vs. China: Google draws line at censorship in prize market
Google challenged China censorship rules Tuesday – saying it would stop filtering its search engine results or leave the country – after it uncovered a vicious cyberattack on human rights activists.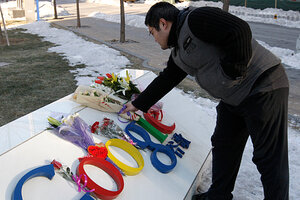 Vincent Thian/AP
Google's dramatic threat to close its business in China unless the authorities allow it to provide uncensored search results throws into stark relief the limits to globalization.
The dream of a unified World Wide Web flattening the Earth into a single cyberspace has been shattered by some governments' determination to control the information their citizens see. And Google's new refusal to submit to such controls in China illustrates how its global business model could founder in an international clash of values.
"Google is a powerful example of a company struggling to navigate the intersection between the Internet, globalization, and geopolitics," says John Palfrey, a law professor at Harvard University's Berkman Center for the Internet and Society.
The search engine and e-mail behemoth said Tuesday it had uncovered "a highly sophisticated and targeted attack on our corporate infrastructure originating from China" aimed at accessing the Gmail accounts of Chinese human rights activists.
In the light of the attack, "we have decided we are no longer willing to continue censoring our results on Google.cn [the company's Chinese website]," Google's chief legal officer, David Drummond, said in a statement. "We recognize that this may well mean having to shut down Google.cn."
"The idea that Google would be allowed to run an uncensored search engine would be inconsistent with everything the Chinese government has done and every single statement it has made over the past year" about the need for controls on the Internet, says Rebecca MacKinnon, an expert on new media in China who was based until recently in Hong Kong.
---