Rising China shrugs off outside opinion
Foreign countries slammed China for its harsh sentencing of a top dissident on Christmas Day and its execution of a mentally ill Briton convicted of drug smuggling, but the juggernaut appears impervious to criticism.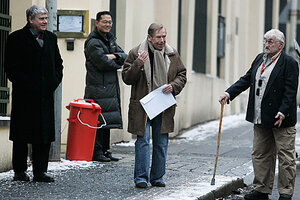 David W Cerny/Reuters
Three times in the past three weeks China has infuriated foreign leaders, shrugging off international opprobrium to do things its own way.
On the final day of the Copenhagen Climate Summit, President Obama was fobbed off for hours with a Chinese Vice Foreign Minister, when he wanted to negotiate with Premier Wen Jiabao.
On Christmas Day, a court sentenced leading human rights activist Liu Xiaobo to an unexpectedly heavy 11-year jail term for authoring an appeal for greater political freedom. That earned Beijing widespread international condemnation.
Four days later, the authorities executed a British citizen for drug smuggling, ignoring British government pleas for clemency on the grounds of the culprit's history of mental illness. British Prime Minister Gordon Brown said he was "appalled" by the execution.
As storm clouds loom over United States-China ties, this new show of assertiveness bodes ill for Washington's hopes of smooth relations with Beijing, analysts on both sides of the Pacific are warning.
---