Temperatures hit record highs globally. El Nino or global warming?
The first half of 2010 was the hottest six-month period recorded globally with temperatures around the globe 2 to 3 degrees Fahrenheit above averages.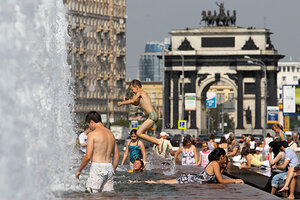 Denis Sinyakov/Reuters
You might have missed it if you live in many spots in the lower 48 states, but the first six months of 2010 were the warmest on record globally, according to preliminary data from the National Climatic Data Center in Asheville, N.C.
During the January-to-June period, combined land and ocean surface temperatures around the globe ran 1.22 degrees Fahrenheit above the 20th-century average.
Temperatures also ran above normal along the US East Coast. But in the the upper Midwest, the Pacific Northwest, the Rocky Mountain states, and the Southeast, temperatures ran from 2 to 3 degrees F below the long-term average.
IN PICTURES: Beating the summer heat
"We haven't seen the warming in the 48 states, which is kind of nice," says David Pierce, a climate scientist at the Scripps Institution of Oceanography in La Jolla, Calif. "But the rest of the world has really seen warm conditions."
---