Tehachapi fire burns 20,000 acres, is 25 percent contained
The Tehachapi fire is actually two separate blazes that had burned as many as 40 homes by mid-day Wednesday.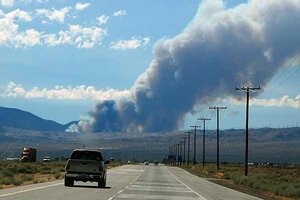 Mike Meadows/AP
The shelter at the old Jacobsen Jr. High in Tehachapi had three to four times as many volunteers as evacuees Wednesday morning as Gov. Arnold Schwarzenegger declared a state of emergency for Kern County, freeing up state resources to fight wind-whipped wildfires. Two separate blazes are still under investigation.
Close to 20,000 acres have burned near the town of about 13,000, which is 40 miles south of Bakersfield. Tehachapi is known for its wind farm, a maximum security prison, proximity to Edwards Air Force Base, and air drafts that make for excellent hang-gliding.
Instead of hang gliders, helicopters and planes are crisscrossing the air overhead, dropping water and fire retardant. Out of control at 7 a.m. local time, the fire was declared 25 percent contained by 11 a.m. with a reported 200 to 300 fire fighters and four aerial tankers at the scene. As many as 40 homes are reported destroyed and another 150 structures threatened. A camp for juvenile offenders also had to be evacuated.
Plumes of thick black smoke snake through the wide, rural sky, partially obscuring portions of the Tehachapi Mountains and 4,000 foot-high Mojave desert.
---