Cybercrime: Are mobsters planting hackers in big companies?
That is just one finding of a cybercrime report by Verizon released this week. While cybercrime fell in 2009, the report noted that hackers are getting better at what they do.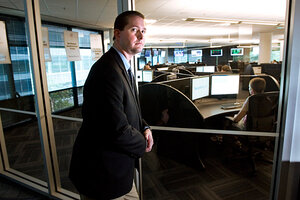 John Amis/AP
After elite hacker Albert Gonzalez was arrested in 2009 and later convicted of stealing data of some 170 million credit cards, an interesting thing happened: The number of cyberattacks on retail stores fell noticeably.
"The prosecution of Albert Gonzalez was a major event in 2009," said a Verizon report released July 28. "He and his accomplices were responsible for some of the largest data breaches ever reported. Taking them off the streets, so to speak, may have caused a temporary (but we can hope for permanent) dip in breaches."
The degree to which one individual can impact cybercrime was only one conclusion of the report.
Unlike some other cyberstudies, which are based on surveys, Verizon's annual cyberattack report analyzes more than 900 actual cases and 900 million stolen records over the past six years. That data set now includes US Secret Service cases added to the report this year. The richness of the data makes the Verizon report particularly closely watched within the industry.
Among the report's other findings:
A shift in targets
Financial services was the most-attacked industry, tallying 33 percent of the data breaches in the study. Hospitality – restaurants and hotels – came in second with 23 percent. Meanwhile, the retail industry, which led in cyberdata breaches in 2007 and 2008, fell to 14 percent in 2009.
Rising use of malware
Hacking and malware use for data attacks were up sharply in 2009. Malware is software developed to harm or remove data without an owner's consent. Malware was used in 38 percent of cases and accounted for 94 percent of all data lost.
---