Is racism at heart of Connecticut shooting? Answer still unclear.
The Connecticut shooting Tuesday, in which nine people died at Hartford Distributors – including the suspected shooter – comes at a time of heightened racial tension in the US.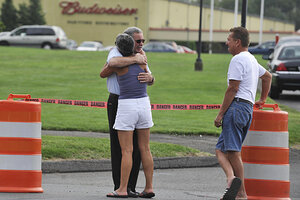 Jessica Hill/AP
In a phone call to his mom after in the early hours of Tuesday morning, the man suspected of shooting eight of his co-workers at Hartford Distributors in Manchester, Conn., reportedly said, "I killed the five racists that were bothering me." Then he took his own life.
The deaths at the beer distributor plant is the largest-scale workplace shooting since the killing of 13 people at Fort Hood last year.
Union officials claim that there's no record of the alleged shooter, Omar Thornton, making any official complaints about racism. Company spokesmen deny that employees harbored racist views.
But the suggestion that racism led Mr. Thornton to kill eight of his coworkers comes during a summer when race has often been at the front of the American conversation – from allegations against the "tea party" movement to the saga of Shirley Sherrod.
Reports indicate that, to Thornton at least, race was an issue at Hartford Distributors. He told friends and relatives that coworkers had scrawled racist epithets on a bathroom wall and a hung a stick-figure effigy in a miniature noose.
But criminologist Daniel Kennedy suggests that race is often not the root cause of workplace shootings – even when it is part of the suspect's real or perceived grievances.
---