Gulf oil spill: Why raise the faulty blowout preventer? It's evidence.
Drilling on the relief well has stopped while BP prepares to raise the failed blowout preventer from the sea floor. The effort is not just a safety precaution. The equipment is also evidence that may reveal how the Gulf oil spill happened.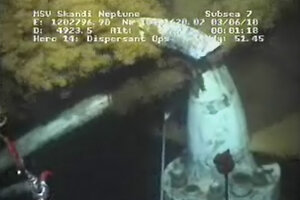 BP/AP
The 450-ton blowout preventer resting a mile below the surface of the Gulf of Mexico is set to become Exhibit A in a Justice Department investigation into what caused the explosion aboard the Deepwater Horizon rig, killing 11 men, sinking the platform, and resulting in the biggest oil spill in US history.
Preparations are under way for the massive blowout preventer stack of valves – a unit taller than a school bus is long – to be brought to the surface. The piece of equipment, says Robert Bea, a former engineer for Shell Oil who is now a professor at the University of California at Berkeley, is "a key part of the crime scene."
Since the disaster began in April, the public has been bombarded with detailed explanations about how the "shear ram" valve on the blowout preventer (BOP) was supposed to slice through the drill pipe in an emergency and shut off the well. That it failed is clear enough.
IN PICTURES: The Gulf oil spill's impact on nature
But why it failed remains anything but clear. All the digging through documents, all the mountains of testimony before Congress and federal panels have led only to conjecture about possible causes of failure. Careful dissection of the BOP and a look inside the steel jaws that did not close now appear to be the only ways to learn what happened.
---
Follow Stories Like This
Get the Monitor stories you care about delivered to your inbox.