Hurricane Katrina anniversary: Can New Orleans' new mayor revive the city?
Mitch Landrieu wasn't mayor of New Orleans when hurricane Katrina hit. But he is now, and at the five-year Katrina anniversary, residents are looking to him to move the city forward.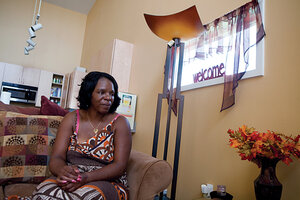 Melanie Stetson Freeman/Staff
Mitch Landrieu now owns the legacy of hurricane Katrina.
He was not mayor then. Moreover, he was defeated by incumbent Mayor Ray Nagin in an election only seven months after the hurricane left 80 percent of the city under water.
But he is mayor now, having taken office in early May, and it is now his challenge to bring to New Orleans the hoped-for post-Katrina renaissance that has never fully taken form in the five years since.
IN PICTURES - Hurricane Katrina: 5 years later
For much of the nation, this month – the fifth anniversary of the storm – marks a moment to chronicle how far New Orleans has come. But for voters in New Orleans – and for the man they elected earlier this year – it is time to address how much further the city needs to go.
Yes, Lower Ninth Ward resident Diedra Taylor has her home again, but she has no neighbors and 10-foot-high grass swallows swaths of empty blocks around her.
Yes, tourism has recovered from its 2006 post-Katrina lows of 3.7 million visitors, but last year's total – 7.5 million – is well below the 2004 peak of 10.1 million.
And yes, Mayor Nagin is gone, but his regime's legacy is perhaps Landrieu's greatest challenge: a $67.5 million deficit and little in the way of progress against New Orleans' endemic corruption.
---