Katrina anniversary: How well has recovery money been spent?
Money from charitable foundations and $142 billion in federal funds have produced a substantial recovery in metro New Orleans, says a report released ahead of hurricane Katrina anniversary.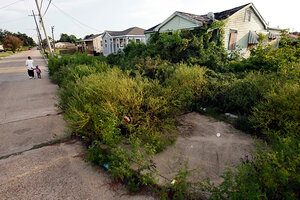 Gerald Herbert/AP
The people of New Orleans may disapprove of the way President Obama has handled the Gulf oil spill, but when he arrives this weekend to mark the fifth anniversary of hurricane Katrina, he is likely to encounter mainly welcoming audiences. It's not just a matter of Southern hospitality: Residents here know their city's future is still bonded to billions of dollars in federal disaster recovery funding.
It's been money well spent in metro New Orleans, producing a substantial recovery from Katrina, according to an independent report released this month. The report, compiled by the Washington-based Brookings Institution and the Greater New Orleans Community Data Center, analyzed 20 indicators of prosperity such as repopulation, housing costs, local tax collections, and the reopening of schools. It concludes that the New Orleans area is poised to become a safer, more sustainable, and economically stronger city than it was before the storm.
"New Orleans is still a work in progress, but a lot of nonprofit organizations, foundations, and community organizations have come together to bring real change to the city," says Amy Liu, deputy director of the Brookings Institution's Metropolitan Policy Program. Most of the funding for these efforts has come from the federal government, along with philanthropic organizations such as the Rockefeller and Gates foundations, says Ms. Lui.
---