BP report on cause of Gulf oil spill spreads the blame
Human and mechanical failures led to the Deepwater Horizon blast and the subsequent Gulf oil spill, finds a BP report released Wednesday. Transocean and Halliburton are also cited.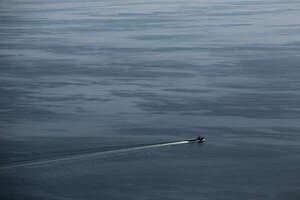 Gerald Herbert/AP/File
The Deepwater Horizon oil well blowout that killed 11 men and resulted in the largest oil spill in US history was the result of a series of human and mechanical failures by "multiple companies and work teams," including the companies' own representatives, according to a report by BP released Wednesday.
The failures contributed to an accident in the Gulf of Mexico that, BP says, was caused by "a complex and interlinked series of mechanical failures, human judgments, engineering design, operational implementation and team interfaces," the report said.
---