Stuxnet worm mystery: What's the cyber weapon after?
Stuxnet worm attack has been centered on Iran, studies show. Experts offer dueling theories as to the cyber weapon's target: Iran's Bushehr nuclear power plant or the nuclear fuel centrifuge facility at Natanz?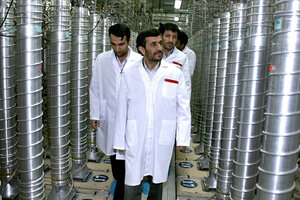 Iranian President's Office/AP/File
Top industrial control systems experts have now gleaned enough about the Stuxnet worm to classify it as a cyber superweapon. But the mystery of what its target is – or was – remains unsolved, though guesswork about its mission is intensifying among those who have studied Stuxnet's complicated code.
Educated guesses about what Stuxnet, described as the world's first cyber guided missile, is programmed to destroy include the reactor for Iran's new Bushehr nuclear power plant, as well as Iran's nuclear fuel centrifuge plant in Natanz. Both facilities are part of Tehran's nuclear program, which Iranian officials say is for peaceful purposes but that many other countries, including the United States, suspect are part of an atom-bombmaking apparatus.
The Bushehr power plant was supposed to be humming by now, but is not – a possible sign that Stuxnet impaired one of its vital systems, says one computer security expert. But another analyst who has also been assisting on the Stuxnet case says the worm's internal order makes that scenario unlikely. The nuclear fuel centrifuge plant in the Iranian town of Natanz is a better fit and a larger nuclear threat, he says.
---