Remnants of tropical storm Nicole wallop East Coast with huge rainfall
Tropical storm Nicole and her aftermath dumped jaw-dropping quantities of rain on the East Coast, including 10 inches in 24 hours in parts of Pennsylvania. Wilmington, N.C., was worst-hit, with 22.5 inches in five days.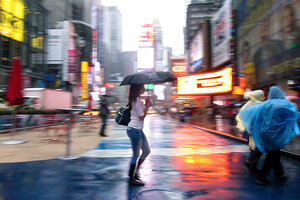 Gary Hershorn/Reuters
Homeowners from North Carolina to Vermont will spend the weekend cleaning up from the remnants of Tropical Storm Nicole, which dumped rain-forest quantities of precipitation on their communities over several days.
Some of the eye-popping totals include 22.5 inches of rain in five days in Wilmington, N.C., 10.5 inches of rain in 24 hours in Moscow, Pa., and 9.5 inches of rain in Jim Thorpe, Pa., in the same time period. The heavy rain began even before Nicole swept inland from the Atlantic.
"Some places have seen three months of rain in one day," says Alex Sosnowski, a senior meteorologist at AccuWeather.com in State College, Pa. "In North Carolina it's more like five or six months worth of rain in the past five days."
The deluge has led to major flooding in such places as Waterbury, Vt., Delhi, N.Y., and Bertie County, N.C., according to the National Weather Service. At least eight fatalities, all traffic-related, are attributed to the storm waters, according to wire service reports.
---