US jobs: In China trade fight, does protectionism help, or hurt?
Congress is considering legislation that would punish China for devaluing its currency, a policy the Obama administration regards as hindering US jobs growth. But some say protectionism is even more costly.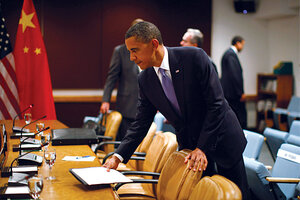 Jason Reed/Reuters
Almost everyone in Rumford, Maine, (pop. 4,953) knows someone who works at the local paper mill, which employs about 800 workers. The town would be hard-pressed to survive without NewPage, which owns the mill and pays 55 percent of Rumford's property taxes. And, when the humidity is right, almost everyone's nose tells them NewPage is busy making paper – and money.
But this little town, where the factory is smack-dab in the middle of the business district, is also along the axis of a US-China trade dispute that in some ways illustrates the burgeoning national debate over the value of free trade versus the importance of jobs in places like Rumford.
Last year, just as the recession was biting into demand, NewPage and other coated-paper companies found Chinese and Indonesian manufacturers were grabbing market share by offering their products for less money. Before long, mills in Michigan and Wisconsin had to shut down and the people of Maine – with three mills affected by the new competition – wondered what would happen to them.
"If those mills had to close that would devastate those communities," says Rep. Mike Michaud (D), whose district includes two of the plants. Mr. Michaud and the rest of the Maine congressional delegation, Republicans and Democrats, all showed up at a hearing to determine if NewPage and the other companies had been harmed. The message from the Down East delegation, says Michaud: "We just want a level playing field."
---