TSA screenings at airports too invasive? 'Opt Out' protest planned.
Internet grass-roots groups urge passengers to 'Opt Out' of the digital whole-body imaging scan on the day before Thanksgiving. The alternative to these TSA screenings is an 'enhanced' pat-down.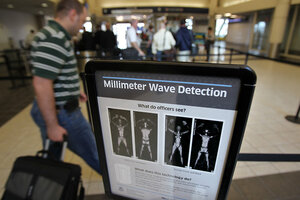 Jerry Holt / The Star Tribune / AP / File
The day before Thanksgiving is traditionally one of the busiest travel days of the year. This year could see even more delays at airports because of spreading protests over new security-screening technology.
Several grass-roots movements, including National Opt-Out Day, have arisen in the past week, inviting people to opt out of the relatively speedy but controversial digital scan in favor of the slower "enhanced" pat-down, the only alternative offered by the Transportation Security Administration (TSA).
"People are getting groped in America's airports," says Chris Calabrese, legislative counsel for the American Civil Liberties Union. The apparent goal of the protests is to show that both procedures – the digital scans and the pat-downs – are too invasive, he adds.
Objections to the digital scanners – known as advanced imaging technology, or AIT scanners – have been growing for months. The equipment uses X-ray technology or millimeter-scale waves to generate an image of the body's outer several centimeters, effectively allowing TSA employees to look under passengers' clothes without ever touching them. The generated images are relatively anonymous, but they leave little to the imagination.
---