Number of full-body scanners at US airports to triple in 2010
Full-body scanners could have foiled the Christmas Day airline bomb plot, some experts say. In 2010, US airports will add at least 150 to the 40 already in use, the TSA says. But critics say the machines won't help.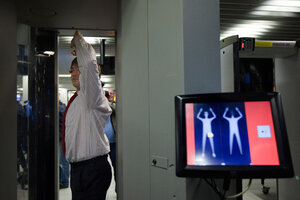 Cynthia Boll/AP/File
In the wake of the failed attempt to blow up an American jetliner on Christmas Day, the number of $150,000-per-unit full-body scanners in US airports is expected to more than triple next year, the Transportation Security Administration says.
Many security experts have suggested that a full-body scanner – which allows screeners to scan a person's body through their clothing – would have seen the explosive that the alleged would-be bomber, Umar Farouk Abdulmutallab, had stitched into his underwear. But the sudden rush for full-body scanners has met with deep skepticism in some quarters.
Not only do civil libertarians call them "virtual strip searches," but some security and industry analysts say the machines are easily foiled by hiding explosives in body cavities. Moreover, their huge cost puts further stress on an already-troubled industry – meaning these costs will likely be passed on to the consumer.
"You would have to put [scanners] in every airport from Nantucket to Namibia to make them effective, and even then, they're not 100 percent effective," says aviation expert George Hobica. "Small airports and foreign airports are the chink in the armor."
150 scanners planned for 2010
There are about 40 full body scanners operating in about 19 US airports, although the majority are used for secondary searches, following an amendment approved by the US House of Representatives last summer saying the machines could not be used for primary screenings.
---