Mohamed Osman Mohamud: The Somali teen who wanted to bomb Portland
Authorities say Mohamed Osman Mohamud acted alone in trying to bomb a Christmas tree lighting event in Portland, Ore. Details about the Somali-born teen's life are now emerging.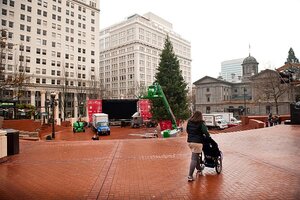 Newscom
[UPDATE: The Associated Press reported Sunday that an arson fire had occurred at the Salman Al-Farisi Islamic Center in Corvallis, Ore., the occasional place of worship of Mohamed Osman Mohamud. The fire on Sunday was contained to one room, burning 80 percent of the center's office, the AP reported. The worship areas were untouched, and no injuries were reported.]
Friends and neighbors called him "Mo." He thought of himself as a rapper. After high school, he signed up for classes at Oregon State University in Corvallis (although not for credit), dropped out, then started classes again. He was a Muslim, although not particularly religious.
From all appearances, Mohamed Osman Mohamud – born in Mogadishu, Somalia, but brought to the United States when he was 5 years old – was a typical teenager in Beaverton, Ore., near Portland.
But when the slim young man was wrestled into a van by FBI and other law enforcement officers – shouting "Allahu Akhbar" as he kicked at the agents who'd arrested him – it was clear he was not.
---