Stuxnet: Ahmadinejad admits cyberweapon hit Iran nuclear program
President Mahmoud Ahmadinejad says that a computer worm incapacitated some centrifuges of the Iran nuclear program. The worm was surely Stuxnet, experts say.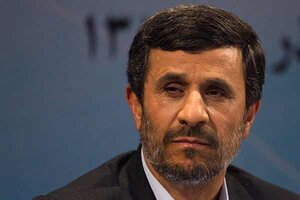 Caren Firouz/Reuters
Iran's president Monday appeared to confirm what cybersecurity experts have been saying for weeks: that a new type of malicious software – a cyber guided missile called Stuxnet – has hammered that nation's nuclear-fuel centrifuge facilities.
Although he did not mention Stuxnet by name, Iranian President Mahmoud Ahmadinejad for the first time admitted that malicious software code had damaged the nation's centrifuge facilities. The statement, cybersecurity experts say, makes it all but conclusive that Stuxnet caused problems for Iran's centrifuges. In a seemingly related move, Iran temporarily halted its nuclear fuel enrichment processes, according to a report issued earlier this month by the International Atomic Energy Agency.
"They succeeded in creating problems for a limited number of our centrifuges with the software they had installed in electronic parts," Mr. Ahmadinejad told reporters at a news conference, Reuters reported. "They did a bad thing. Fortunately our experts discovered that and today they are not able [to do that] anymore."
---