LaGuardia airport and others reopen, but stranded fliers still face ordeals
LaGuardia airport, JFK airport, and Liberty airport are all open again after the 2010 blizzard, but many travelers are still days from catching a flight home.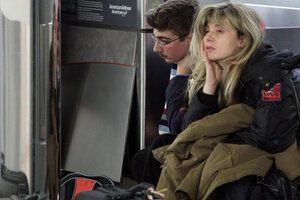 Newscom
LaGuardia airport reopened late this afternoon, and Newark's Liberty airport and New York's JFK airport were scheduled to do the same starting at 6 p.m. – but that doesn't mean the delays related to Sunday's snow storm are over.
The welcome resumption of flights still leaves thousands of travelers delayed – rebooked for later in the week or in doubt about when they'll fly.
Holiday travel chaos is nothing new, of course, but that's before a major blizzard lands right atop some of the nation's busiest airports right on the Sunday after Christmas.
The three major airports were closed much of Monday, affecting incoming as well as outbound passengers.
---