Billy the Kid: why he missed out on a pardon once again
Billy the Kid killed two guards during an escape after he was first denied a pardon 130 years ago, Gov. Bill Richardson said, a leading factor in his decision not to pardon Billy the Kid Friday.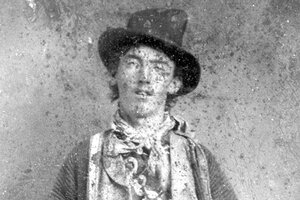 Lincoln County Heritage Trust Archive/AP/file
On nationwide television Friday morning Bill Richardson became the latest New Mexico governor to decide not to pardon legendary gunslinger Billy the Kid.
Governor Richardson, whose successor takes office January 1, had spent his eight-year term pondering a pardon for the outlaw who was ambushed and shot on July 14, 1881. The man who was variously known as Henry McCarty, William Bonney, and William Antrim has been blamed for anywhere from 8 to 22 murders.
Historical documents show that in 1879 Billy the Kid was promised a pardon by the governor of New Mexico, Lew Wallace, in exchange for testimony against three men accused of killing a one-armed lawyer during the Lincoln County Wars. But Governor Wallace failed to issue the pardon, a fact that Richardson said influenced his decision Friday.
On ABC's Good Morning America, Richardson said he decided not to issue the pardon "because of a lack of conclusiveness and the historical ambiguity as to why Governor Wallace reneged on his pardon."
---