Grapevine closed by snow: playtime near L.A., but tough work on I-5
The California Highway Patrol works hard to reopen the Grapevine closed by the winter weather, even as arts students outside Los Angeles frolic in the snow, highly unusual at that low altitude.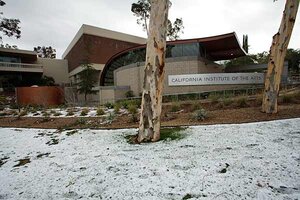 Courtesy of Scott Groller/CalArts
Even as delighted California Institute of the Arts students were building snowmen Monday from the five inches of snow that fell on their Valencia campus north of Los Angeles, the California Highway Patrol was working to reopen a vital section of Interstate 5, the state's main north-south artery that was closed by heavy snow and high winds midafternoon Sunday.
According to Highway Patrol public information officer John Lutz, the closure is not unusual, but reopening the "Grapevine," a key windswept 40-mile stretch that runs south from Bakersfield toward the Mexican border, is particularly tricky.
While the corridor is vital to state and international commerce, Mr. Lutz points out, the stretch of highway is lacking in vital services and represents a real threat to any cars or trucks that may get mired in mud or snow.
"There is no food and no gas, and the road is difficult to traverse because of the ice," Lutz says. But, he adds, the Highway Patrol regards this short-term closure as routine: "This happens nearly every year."
Less common, though, are the snow flurries that have hit the greater Los Angeles area at record low elevations, such as in the Santa Clarita Valley where Cal Arts is nestled.
---