TV's Web revolution sizzles at CES 2011: Can your cable company survive?
CES 2011 in Las Vegas is showcasing gadgetry to make TV truly mobile. Can the old guard media companies survive the revolution? Surprisingly, signs are that they will.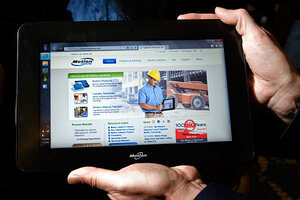 Steve Marcus/Reuters
Every January, technology enthusiasts pore over the hottest news from the International Consumer Electronics Show for hints of the big trends in personal tech.
This year is no exception. The drumbeat from the annual post-holiday gadget frenzy in Las Vegas is the rise of the Internet-enabled television set and the proliferation of iPad-inspired, tablet-style mobile viewing devices that allow consumers to watch TV wherever, whenever.
"The overall trajectory of what is happening when it comes to viewing television content is TVs with online access, iPads, and mobile phones – anything having to do with Internet access," says Paul Levinson, professor of communications and media studies at Fordham University in New York and author of "New New Media."
---