Nuclear power in US: public support plummets in wake of Fukushima crisis
Several polls show that Americans are once again wary of nuclear power. Before the Fukushima disaster, support for nuclear power had hit record highs in the US.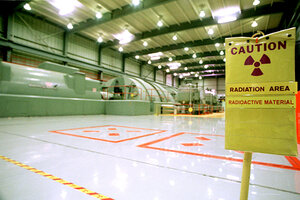 Newscom
The massive earthquake that threatened a meltdown at Japan's Fukushima I nuclear plant has dramatically eroded public support for building new nuclear power plants in the US, throwing into question the "nuclear renaissance" hailed by industry advocates, new polls show.
A new Civil Society Institute/OCR poll conducted last week shows that a majority of Americans now favor halting new federal loan guarantees to support reactor construction. At the same time, most respondents also favor removing the federal indemnification in the event of a nuclear accident.
Other surveys also show a serious weakening in support for nuclear-power development. While Gallup found 62 percent support for nuclear energy last March – the highest since the polling firm first asked the question in 1994 – support for new nuclear power has now dropped to 44 percent, a new USA Today/Gallup poll shows.
Similarly, a new survey by the Pew Research Center for the People & the Press release Monday shows 39 percent now favoring more nuclear power while 52
percent oppose it – matching a September 2005 low in support for nuclear. Last October, a Pew poll showed 47 percent favored promoting the increased use of nuclear power and 47 percent opposed.
---