Sleeping air-traffic controllers show that fatigue issue still plagues FAA
FAA official resigns following string of incidents involving sleeping air-traffic controllers. Passenger rights group praises decision to add second overnight controller at 27 airports.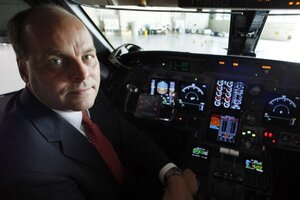 AP Photo/Charles Dharapak, File
Following a string of incidents involving sleeping air-traffic controllers, the FAA has ordered an additional controller to be added to the overnight shifts at 27 airports. On Thursday an FAA executive resigned amid the growing outcry over the incidents, which have energized longstanding concerns over fatigue among transportation personnel.
The latest such incident occurred at 2 a.m. Wednesday, when the pilot of a medical plane was unable to reach the controller on duty at the Reno-Tahoe International Airport in Nevada. The pilot decided to land after 16 minutes, citing concern over the health of a patient he was transporting. According to the FAA, it was the sixth case of an unresponsive controller this year. All the controllers involved in the incidents have been suspended, the FAA said.
"Air traffic controllers are responsible for making sure aircraft safely reach their destinations," said Federal Aviation Administrator Randy Babbit in a statement Wednesday. "We absolutely cannot and will not tolerate sleeping on the job."
Hank Krakowski, head of the FAA's Air Traffic Organization, which employs the nation's air-traffic controllers, resigned Thursday. In a statement announcing Mr. Krakowski's departure, Mr. Babbit noted that public confidence "begins with strong leadership."
---
Follow Stories Like This
Get the Monitor stories you care about delivered to your inbox.