Rutgers suicide: Victim's roommate is charged with hate crime
A former student is indicted on 15 counts, including invasion of privacy, in the Rutgers suicide case. He is alleged to have used a webcam to spy on his roommate's sexual encounter with another man.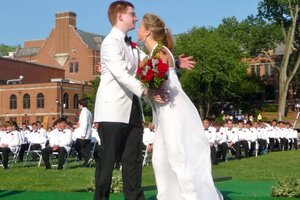 AP Photo/Ridgewood Patch, Sam Fran Scavuzzo, File
A former Rutgers University student whose roommate committed suicide after his sexual encounter with another man was streamed on the Internet was indicted Wednesday on 15 counts, including intimidation based on sexual orientation, a hate crime.
The charges against Dharun Ravi also included invasion of privacy and witness tampering. His roommate, Tyler Clementi, committed suicide last September, one day after Mr. Ravi and a friend allegedly invited others to view an intimate encounter online.
Mr. Clementi's parents released a statement praising the indictment, saying it "spells out cold and calculated acts against our son Tyler by his former college roommate."
The charges, handed down by a Middlesex County, N.J. grand jury, also include tampering with evidence. Prosecutors say Ravi deleted an incriminating tweet and then – aware of an impending investigation – tweeted something intended to mislead investigators.
The indictment does not specify what the original offending tweet said. However, it was widely reported last fall that messages about Clementi's sexual orientation appeared on a Twitter account attributed to Ravi.
"Roommate asked for the room till midnight," read a Sept. 19, 2010, tweet. "I went into Molly's room and turned on my webcam. I saw him making out with a dude. Yay."
Then, on Sept. 21, a tweet invited followers to watch a webcast of Clementi alone with a man:
"Anyone with iChat, I dare you to video chat me between the hours of 9:30 and 12. Yes it's happening again."
---