So, if your iPhone is spying on you, who benefits?
Reports that iPhones and Android phones track the owners' movements have revived privacy concerns. The list of who wants the data – from police to marketers – is potentially a long one.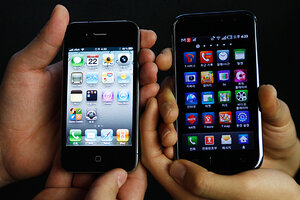 Truth Leem/Reuters
News that certain mobile phone manufacturers have embedded technology in their devices that tracks owners' movements has raised alarms among privacy rights advocates even though it has been somewhat of an open secret since last year.
The controversy flared up this week when technology bloggers started commenting on a report by two security technology researchers that was presented at a conference in Santa Clara, Calif.
Alasdair Allan, a senior research fellow at the University of Exeter, and Pete Warden, founder of Data Science Toolkit, an open-source software website, reported that starting a year ago, when Apple updated its mobile operating system, the iPhone and the 3G version of the iPad started storing user location data.
The data are collected whenever the device connects with cell-phone towers or Wi-Fi networks. The collected data becomes vulnerable to hackers if the device is later synced to a computer.
"We're not sure why Apple is gathering this data, but it's clearly intentional," Mr. Allan and Mr. Warden wrote on their website.
---