Cyberespionage: US finds FBI agents in elite unit lack necessary skills
With US increasingly vulnerable to cyberespionage, a Justice Department report finds that many agents attached to the FBI's elite cyber unit lack the skills to investigate such cases.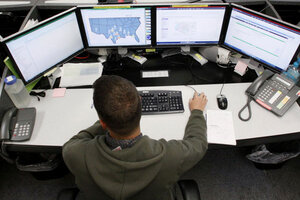 Rick Wilking/Reuters/File
Many of the Federal Bureau of Investigation's field agents assigned to an elite cyber investigative unit lack the skills needed to investigate cases of cyberespionage and other computerized attacks on the US, the Justice Department inspector general reported Wednesday.
That's a problem because the US is under constant and increasing cyberattack with 5,499 known intrusions into US government computer systems in 2008 alone – a 40 percent jump from 2007, the inspector general's office found.
Investigating these kinds of cyberespionage attacks falls largely on the FBI as the lead agency for the National Cyber Investigative Joint Task force, which also includes representatives from 18 different intelligence agencies and is assigned to investigate the most difficult national security intrusions – those by a foreign power for intelligence gathering or terrorist purposes.
But in interviews with 36 field agents in 10 of the FBI's 56 field offices nationwide, 13 agents, or more than a third, "reported that they lacked the networking and counterintelligence expertise to investigate national security [computer] intrusion cases." Five of the agents told investigators "they did not think they were able or qualified" to investigate such cases, the report said. The inspector general report does not indicate whether the 36 field agents who were interviewed are a representative sampling of the FBI's cyber unit.
---