At ground zero, an outpouring of emotion as New Yorkers feel 'closure'
Crowds gathered spontaneously at ground zero in New York as news of Osama bin Laden's death spread. 'Today is a day of jubilation,' said one person near the site of the 9/11 attack.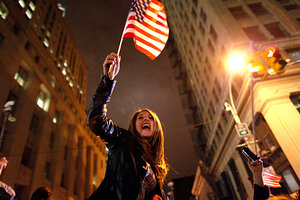 Jason DeCrow/AP
The morning after the news that Osama bin Laden had been killed in Pakistan, lawyer Aaron Lebenger felt compelled to walk to ground zero for a few quiet moments to honor the 2,752 people who lost their lives on the attack on the World Trade Center's twin towers.
"I just wanted to be here," he says.
A block away from what is now a massive construction site, Gregory Hajduk sat in his red Dodge Durango with the names of all the emergency medical personnel who were killed on 9/11 draped on a cloth across the hood of the vehicle.
"I had to come down," said Mr. Hajduk, who works as a paramedic. "I lost a lot of good friends."
And, as she walked past the site of the former towers, banker Cheryl Stinerock said she is "relieved" upon hearing about the death of bin Laden, the mastermind of the attacks that killed 3,000 people, mostly in New York but also in Washington and Pennsylvania.
Outside the scene of the attack in New York, New Yorkers mostly happily greeted the news that Mr. bin Laden had finally been brought to brutal justice.
"Today is a day of jubilation," says James Vigliatura, as he stood on a street corner holding an American flag in one hand and a copy of a tabloid newspaper with the headline, "We Got Him," in the other hand. "I'm so proud of our military and the Navy SEALs."
---